Harbor Porpoise Project Data
Locations Where Monitors Have Collected Data 2011 - 2018
Presence 2011 to 2015
Acoustical data and land-based observations data for the relative presence of harbor porpoise in the Burrows Pass area were examined and the results compared over a four year period from 2011 to 2015. The relative presence was found to be constant to decreasing over that interval of time.
Movement and Distribution
The information below was collected by passive acoustic monitors in 2014 from three locations: Burrows Pass by Washington Park in Anacortes, WA, Rosario Strait by Cypress Island and at the Marine Science Center at Port Townsend WA. The chart indicates the relative amount of the time porpoises were present for each month.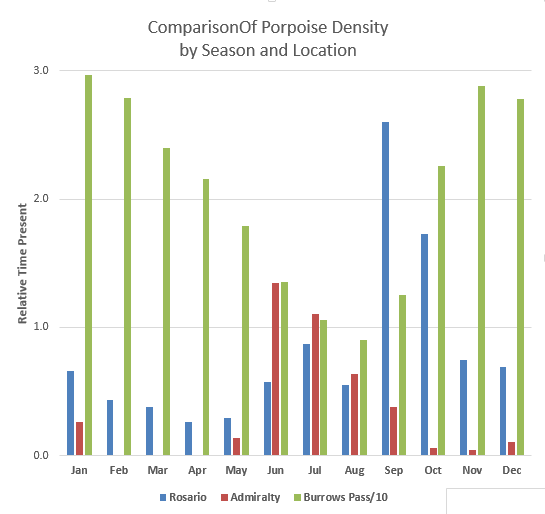 There is a significant difference in the monthly presence between these three locations. The presence at Burrows Pass is relatively much higher and is more continuous all year with a distinct minimum in summer months. In Rosario Strait, the presence is lower in the winter than the summer and peaks in September and October. Near the Marine Science Center there is a strong peak in June and July and almost no presence in October through May. The seasonal variation may indicate a change in the porpoise distribution from the more protected waters around Burrows Pass in the winter to the larger bodies of water in the summer and into the fall.

Copyright © Harbor Porpoise Project and Biota Maxima